2013.06.26
A Journey into Art Brut - Part 1 'The Venice Biennale' by Mizue Kobayashi
■A report from the 55th Venice Biennale
La Biennale di Venezia
the 55th International Art Exhibition
Il Palazzo Enciclopedico / The Encyclopedic Palace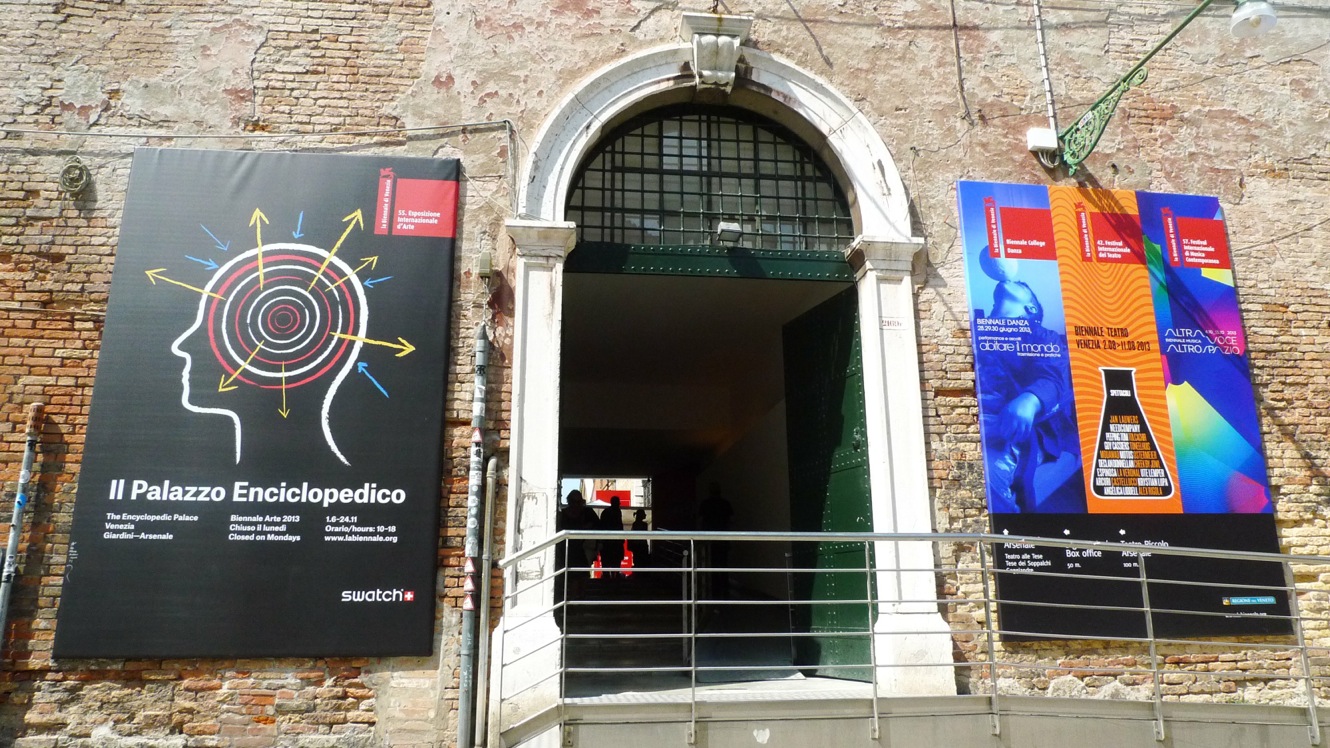 (Photo: Entrance to the Venice Biennale exhibition grounds)
The 55th Venice Biennale features over 150 independent artists from thirty seven countries, whilst national pavilions feature art from eighty eight different countries in venues across the city, including the main venues at the Venice Giardini and Arsenale. It is at the Arsenale grounds where the works of artists personally chosen by curator Massimiliano Gioni are being exhibited. It is here, at the Arsenale grounds where Shinichi Sawada's works are being exhibited.
This years' biennale features a wide variety of art from the nineteenth Century onwards, including contemporary art and art brut. Known as the 'art Olympics', it is a remarkable and unprecedented achievement for both Mr. Sawada as well as for Japanese art brut as a whole to have been chosen for exhibition there. Wanting to catch a glimpse of Mr. Sawada's works in all their glory, I decided to visit the biennale in mid-June.
Twenty six of Mr. Sawada's pieces were laid out in a custom-made circular display. Even in a city-wide exhibition of art from across the globe, Mr. Sawada's works commanded great attention and presence due to their quality and idiosyncratic uniqueness. Visitors coming to see his work could be found almost pressing their faces up against the glass, wide-eyed with wonder. It was truly heartening to see how his works stirred so much interest and seemed to resonate with the visitors. I am very excited to see how the Japanese art world and media will be covering this story!

From what I saw, there were about ten art brut practitioners being exhibited at Venice.
Art brut in Japan has seen major developments in the last ten years. Since the establishment of the Borderless Art Museum NO-MA in Shiga prefecture in 2004, research and proactive searches of art brut practitioners across the country, as well as exhibitions exploring the creative powers of both disabled and able-bodied artists have increased.
The collaborative exhibition carried out in 2007 and 2009 between the Collection de l'Art Brut in Switzerland and NO-MA served to further propel Japanese art brut to the fore. The Collection de l'Art brut houses the collection of Jean Dubuffet and is well regarded globally. During the period between 2007 and 2009, simultaneous exhibitions were held in Switzerland and Japan. In Japan, art brut works from around the world were exhibited alongside Japanese art brut works, whilst in Switzerland an exhibition featuring Japanese art brut was held. Both exhibitions garnered much attention and acclaim.
The Paris exhibition in 2010 ('Art Brut Japonais' held at Halle Saint-Pierre, Paris) and the Wellcome Collection exhibit are both direct results of the exposure we gained in Switzerland. All of these opportunities are catalyzing the art brut movement in Japan and helping to get the art form and the artists known worldwide.
Here at the Japan office of the touring exhibit of Europe, we are very happy to say that we are receiving numerous queries regarding the artists and their work from both inside Japan and overseas. In particular, interest from overseas has been overwhelming we are very happy to say! It is proof that not only Mr. Sawada's work but all of the artists we are representing from Japan are producing work of a very high quality that is arresting and able to capture the attention and interest of a global art audience. At the same time, it reinforces our conviction that art brut is a new form of national cultural heritage to be proud of, and which must be fostered and developed with great care.
In April this year, a bipartisan group of Japanese parliamentarians was established with the aim of establishing a national art brut centre and museum. I would like to take this opportunity to express my strong support for this initiative.
Times are changing for the better!
Mizue Kobayashi
Art Director, Social Welfare Organization Aiseikai
Japan-side Curator 'Outsider Art from Japan' Touring Exhibit of Europe