Het Dolhuys National Museum of Psychiatry (Haarlem, the Netherlands)
「Outsider Art from Japan」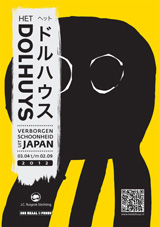 DURATION:2012.4.20~9.2 ※EXHIBITION FINISHED
NUMBER OF VISITORS:APPROX. 16,000
WEBSITE:http://www.hetdolhuys.nl/
Scenes from the exhibit(1)
Scenes from the exhibit(2)
HET DOLHUYS at Schotersingel 2 2021 CE Haarlem(1)
HET DOLHUYS at Schotersingel 2 2021 CE Haarlem(2)
The opening
advertising on the Street
An interview with Hans Looijen, Director of the Het Dolhuys National Museum of Psychiatry
――How do you feel now that the exhibition has opened?
It is a great opportunity to show these wonderful works to the audience. I feel that the artists and their works communicate something of great importance to us.
――How is audience reaction?
They just love it! They are very curious and feel a connection to the works. In short, I think the audience is really 'involved'.
――Please tell us about the concept behind this exhibit. What do you wish to communicate to the museum visitors?
We really would like to invite our visitors to reflect on their perceptions regarding the art. Do we look at the art differently when we know that the artists are handicapped, or 'not normal'?
――Please tell us what you like about these works from Japan, from your own perspective.
I see the pursuit of a technical perfection, much like how the old masters would perfect their own skills through practice on top of more practice. However, these works are not created with any audience in mind, and the 'perfection' that these artists pursue is how to reach or attain the vision they have inside of themselves, and that only. This is how they appear to me. We have also placed a focus on works which display what we feel is a Japanese sensibility and sense of beauty.
――Please tell us your impressions of Japan from when you visited to select the works.
I was very impressed with how much support the staff members of the facilities provided to the artists. I also felt that social awareness in Japan should be raised regarding the realities of the lives of the artists, and this can be achieved through art brut gaining more recognition. These people may be 'different', but they are extraordinary.
――Lastly, do you have any words for our artists?
My hope is to achieve openness on the subject of 'difference', and to achieve inclusiveness in society.
Comments from the exhibition visitors
Het Dolhuys National Museum of Psychiatry (Haarlem, the Netherlands)
Located about twenty minutes by train from Amsterdam, the Het Dolhuys museum is a national museum housed in a 600 year old former psychiatric hospital.
Numerous events and exhibitions are held here, including the exhibition of art brut from around the world, and the questions of why humans are compelled to 'express' and the universality of human creativity are explored here. There are historical archives documenting psychiatric treatment made available to the public as well as outreach programmes designed to teach school children about the human brain and to deepen understanding toward disabilities.
http://www.hetdolhuys.nl/