2013.05.23
Art Brut exhibit at the Prime Ministers' Office, Tokyo, Japan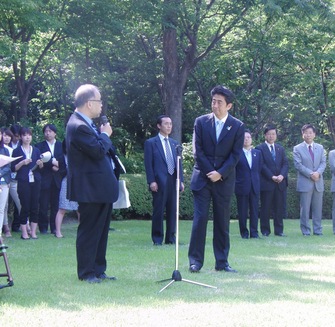 Chair of the Shiga Prefectural Social Welfare Organization, Mr. Kengo Kitaoka speaks about art brut, and the dramatic changes and developments it has been undergoing recently.
Mr Shinichi Sawada (Pictured centre)
Art Brut exhibit at the Prime Ministers' Office, Tokyo, Japan
An art brut exhibition was held at the office of the Prime Minister of Japan on May 23, 2013.
The Prime Minister spoke about Mr. Sawada's works being chosen to be exhibited at the Venice Biennale and congratulated the young artist (pictured centre) on his remarkable achievement. Along with Mr. Sawada, fellow artists Marie Suzuki and Norimitsu Kokubo along with other art brut artists were present and made for a very convivial and lively exhibition. The Prime Minister expressed the governments' strong interest to 'fully support' art brut initiatives.

【Related Links】
The Office of the Prime Minister of Japan
Scenes from the exhibit held at the Office of the Prime Minister may be seen here:
http://www.kantei.go.jp/jp/96_abe/actions/201305/23tudoi.html
Government Internet TV
Footage from the exhibit at the Office of the Prime Minister may be seen here:
http://nettv.gov-online.go.jp/prg/prg7947.html
Jiji.com News Portal
http://www.jiji.com/jc/zc?k=201305%2F2013052300737&g=pol